---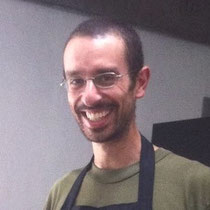 I'm a vegan chef and graduated in Biology of Nutrition. I was born in Italy, which gave me a native sense for taste and cuisine. I started cooking vegetarian in 2004, then I turned vegan in 2008. I've traveled a lot in Europe and Latin America, thus I had the opportunity to learn many different traditional ways of cooking and using spices, ingredients, etc. I've always loved to learn, cook, play, explore new ways to prepare food.
I devote to studying nutrition, with a focus on the relations between chronic diseases, food and health. This makes me aware of the choices that shall be made to consume food that is good for us and the environment.

Since 2012 I do cuisine workshops where participants play, learn how to cook and get knowledge about healthy cuisine and how livestock industry affects our planet. I've been doing these workshops all around in my travels in Central and South America, and in Italy.
My cooking style
If I had to describe my style I would say it's Mediterranean cuisine with local ingredients. Since I live in Central America I make plenty use of avocados, mangos and peanuts, and I mix them with what I've learnt during my travels in Greece, Turkey, Morocco and other near European countries. Yep, I love traveling and I've a backpacker lifestyle.
I love simplicity and good taste, spices, colors, smells. Vegan cuisine is a window open on diversity. I like to vary, half follow recipes, half invent and, as I always say "life is too short to cook the same twice".
Have a look of my cuisine blog here: La Cucina dei Briganti. (in Italian)